EDISPHERE – Data Integration Suite (Executive Overview)
EDISPHERE is a state-of-the-art Electronic Data Interchange (EDI) translation system, seamlessly integrating your internal business applications with your external partners; mapping business messages in a variety of data formats, such as, X12, EDIFACT, XML, Proprietary data formats (fixed length, variable length, CSV), etc; and also supports mapping to databases.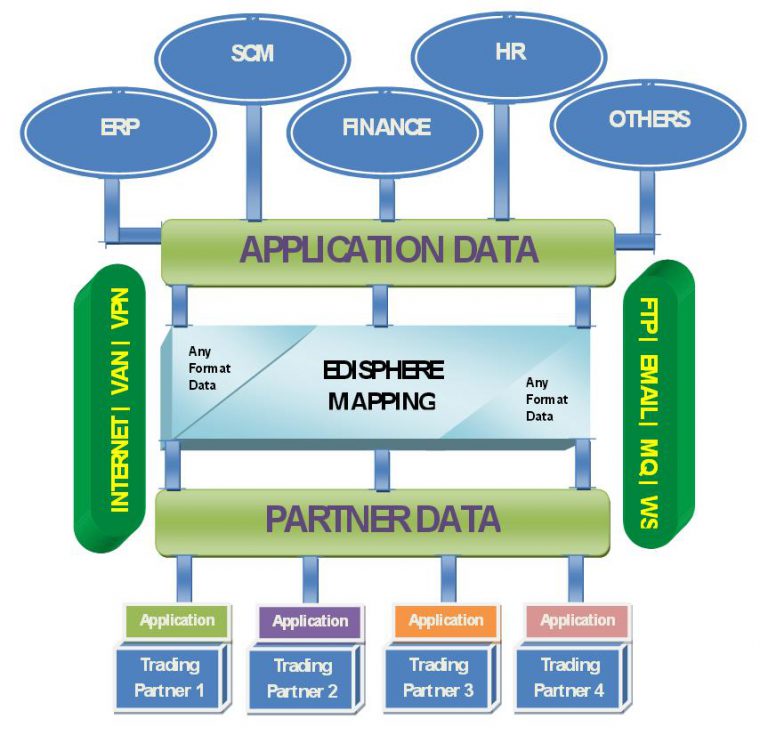 Unlike most EDI products, EDISPHERE has built-in productivity features along with mapping features, which helps in creating robust and maintainable EDI implementations very quickly. Besides, EDISPHERE Translator (it's map execution runtime engine), is a high-performing scalable engine, enabled with active redundancy features; making it highly suited for 24×7 business critical EDI environments.
EDISPHERE is horizontally oriented (industry-neutral), designed to accommodate the needs of vertical industries such as Automotive, Banking and Financial, Government, Healthcare, Insurance, Manufacturing, Retail, Transportation/Logistics, etc.
Our product development strategy consists of whole-product approach, which places strong emphasis on mapping non-standard and proprietary situations; which are mainstay of EDI implementation projects. The result has been the development of smart and innovative features in the product, which are certain to meet the peculiarities of your EDI requirements in a timely, reliable, and cost-effective manner.
Simply stated, EDISPHERE provides the best value for your EDI Integration requirements.